Course details
【Welcome party】 BEEF × CHICKEN × PORK !! Three kinds of meat offering course ★ All 9 items 3000 yen "4000 yen with unlimited drinks"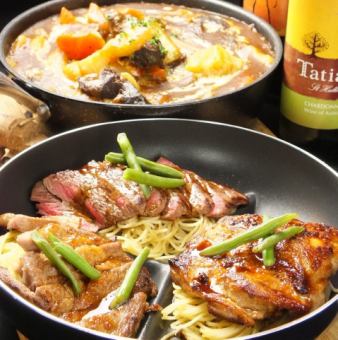 By using a coupon3000 yen
All-you-can-drink available

Last order is 30 minutes before.
Reservation deadline

Two days before the desired store date until 19 o'clock
Available days for reservation

Monday - Sunday - Public holidays - Holidays
This course is packed full of commitment menus of Portamari ♪ thanks to everyone from Portamari who celebrated the 5th anniversary.It is also recommended for year-end party, farewell party and birthday party.Of course the draft beer is also OK ★ 2 hours Having drinks unlimited plus 1000 yen! For those who are not good at beer you can drink as much as you wish Drinks are OK! Please feel free to inquire us for cooking menu consultation.From 30 people OK ♪ OK
Course menu
All-you-can-drink for 2 hours at 【use coupon】 1500 yen → 1000 yen!
■ Assorted hors d'oeuvres
·Seafood Marinade
·Salmon Carappcio
· Bruschetta ... etc, ___ ___ ___ ___ 0
Caesar salad with bacon and spa eggs
■ Chef's Recommended Pasta
■ ~ BEEF × CHICKEN × PORK ~ 3 kinds of meat prime set
«BEEF» specialty __ beef steak
«CHICKEN» Saute of chicken and deep-fried chicken
«PORK» Wall thickness! Pork ginger roasted ... Please enjoy the meat dish of the full volume with the Chef's Random.
Seasonal fruit platter or dessert
... Celebrations surprise with a message, please feel free to contact us ♪
* Menu change due to purchase
..................... ★ Free option for private ★ .....................
To customers with a charter of more than 30 people · · ♪
1. Acoustic equipment
Full-scale equipment of professional specification is enriched!
2. Microphone
3. Piano
4. Projector / Screen
5. Bringing in prizes etc. OK
6. The number of crackers
7. Bingo set
.......................................................
Please tell us what you need from the above when making your reservation.
For anything other than the above, please do not hesitate to consult us.
All-you-can-drink menu
· ■ BEER
· Kirin draft beer ※ For charter business it will be a bottled beer.
· ■ CHU-HI
· Lemon / lime / grapefruit / Calpis
· ■ PRUM LIQUEUR
· Plain plum wine
· SAKE
· Superior
· ■ COCTAIL
· Cassis Soda / Cassis Orange / Campari Soda / Campari Orange / Gin Tonic / Vodka Tonic / Kiel / Beer Spiritsa / Carimocho / Operator / Wine Cooler / Cuba River / Cork Hight / Ginger Hight / Brandy Split Tour
· ■ WINE
· Glass wine (red · white)
· ■ WHISKY
· Johnny Walker (red) / Fore Roses / IW Harper
· ■ HIGH-BALL
·Highball
· ■ SOFT DRINK
· Coffee / Tea / Soda / Cola / Ginger Ale / Orange Juice / Grapefruit Juice / Oolong Tea / Calpis
Coupons that can be used with this course
2018/11/21 update