DETAIL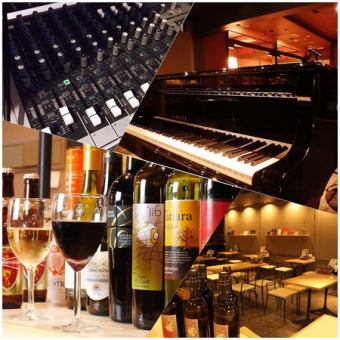 «10 great free benefits» Corporate banquets · student banquets · various parties ♪ 30 people - private charter OK!
Course with drink all you can from 3500 yen ~!
We offer free benefits for banquets, parties and charters for more than 30 people! We are well equipped for musicians to live, we are newcomers compa · students, company banquets · different industry exchange meeting · alumni association · Various events Please use it for various off-campaign etc. ♪ Piano · Mic · Projector equipped ♪
Menu

..................... ★ Free option for private ★ .....................

1. Acoustic equipment

Our musicians live is also held!

Full-scale equipment of professional specification is enriched!

2. Microphone

3. Piano

4. Projector / Screen

5. Bringing in prizes etc. OK

There is also a space that can be stored ♪

6. The number of crackers

7. Bingo set

8. Venue time 30 minutes free extension

9. Welcome board

10. Sparkling wine for toast

.......................................................

Please tell us what you need from the above when making your reservation.

For anything other than the above, please do not hesitate to consult us.
Coupon that can be used
【Ok anytime OK ♪ Banquet privilege】
1 person free for every 10 people !!
There is a free option for over 30 people ♪

Presentation conditions

At the time of booking

Conditions of use

On drinks with more than 3,500 yen course available / reservation required / over 10 people / / free option when reserved for private

Expiration date

Until the end of February 2018