Course details
【Student Limited】 New Year · Drinking party ♪ 2 hours with all you can drink 2500 yen 【Alcohol is + 500 yen】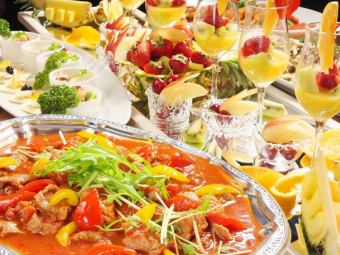 By using a coupon2500 Yen
If you have an all-you-can-eat alcoholic drink 3000 yen
All-you-can-drink available

Last order is 30 minutes before.
Reservation deadline

Until 16:00 on the day before the desired store visit
Available days for reservation

Tuesday, Sunday, Public Holiday, Holidays
☆ The student is a must - see ☆ It is also perfect for a drinking party of new worship / seminar ◎ from small people such as birthday party, girls' party etc, to a large party of stall party ♪ Private privilege for micro / projector ♪ Recommended course for student banquets Small group banquet - correspond to private party ♪ * If you can drink soft drinks at any price, it is possible at 2500 yen!
Course menu
◆ Assorted hors d'oeuvres
· Cracker & smoked cheese
· Smoked salmon carpaccio
·Seafood Marinade
... ___ ___ ___ ___ 0
◆ Potato Fry & Deep Fried
◆ Caesar salad with bacon and spa eggs
◆ Chef's Recommended Pasta or Homemade Pizza
※ The content may change by purchase.
..................... ★ Free option for private ★ .....................
To customers with a charter of more than 30 people · · ♪
1. Acoustic equipment
Full-scale equipment of professional specification is enriched!
2. Microphone
3. Piano
4. Projector / Screen
5. Bringing in prizes etc. OK
6. The number of crackers
7. Bingo set
.......................................................
Please tell us what you need from the above when making your reservation.
For anything other than the above, please do not hesitate to consult us.
All-you-can-drink menu
· ■ BEER
· Kirin draft beer ※ For charter business it will be a bottled beer.
· ■ CHU-HI
· Lemon / lime / grapefruit / Calpis
· ■ PRUM LIQUEUR
· Plain plum wine
· SAKE
· Superior
· ■ COCTAIL
· Cassis Soda / Cassis Orange / Campari Soda / Campari Orange / Gin Tonic / Vodka Tonic / Kiel / Beer Spiritsa / Carimocho / Operator / Wine Cooler / Cuba River / Cork Hight / Ginger Hight / Brandy Split Tour
· ■ WINE
· Glass wine (red · white)
· ■ WHISKY
· Fore Roses
· ■ HIGH-BALL
·Highball
· ■ SOFT DRINK
· Coffee / Tea / Coke / Ginger Ale / Orange Juice / Grapefruit Juice / Oolong Tea / Calpis
Coupons that can be used with this course
2018/11/21 update